Sundance Mechanical & Utility Corporation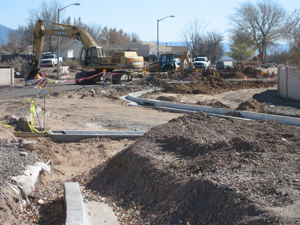 Sundance Mechanical & Utility Corporation is a leading New Mexico contractor in the underground utility construction industry. We provide the highest quality of service to our clients with the most professional, safety minded, utility work force available. With several decades of utility contracting experience and a complete inventory of modern, heavy-duty equipment, and knowledgeable personnel, Sundance Mechanical utility contractors provide unparalleled quality to our customers no matter what size utility project.
Since our founding in 1979 Sundance Mechanical & Utility contractors has built more than 1,000 miles of municipal and private water and sewer lines. We have built water systems with line sizes from 4-inch diameter to 48-inch diameter and sewer systems from 6-inch diameter to 60-inch diameter. We have the expertise, equipment and workforce to build projects of any size.
Drainage of storm runoff water is of primary importance here in the southwest where rainfall is concentrated in severe storms capable of producing two inches or more of rain in a very short time. Sundance Mechanical & Utilities contractor has built many miles of storm sewers in sizes up to 96 inches in diameter. We also specialize in building drop inlets or catch basins to move the storm runoff from the street to the storm sewer system.
Utility Site Development Contractor Services:
Main Water Line Construction
Underground Sewer
Storm sewers for commercial and residential subdivisions
Asphalt paving
Formed concrete work
We provide underground utility contractor work for a wide variety of municipalities, corporate clients and developers. While our clientele and the scope of our projects may vary, the one constant is our competence and commitment to customer satisfaction.
All of our work in warranted for one (1) year.
Need more information or a quote? Please use this form to Contact Us.